Inspiring Confidence in our Daughters
This post is part of the YummyMummyClub.ca, with Loblaws/Real Canadian Superstore and Dove #InspireConfidence sponsored program. I received compensation as a thank you for my participation. This post reflects my personal opinion about the information provided by the sponsors.
Show of hands: Who remembers being 10, 11 or 12? We didn't know we were "tweens" but we certainly knew something was up. I can't believe my baby girl falls into this category – where did the time go?  When I heard about Dove's #InspireConfidence parties, the timing seemed just right for me to host one for my daughter and her friends. Consider the following:
A mere four per cent of women throughout the world consider themselves to be beautiful.

SIX out of every TEN girls are so concerned with how they look that they actually hold back from activities, opportunities and even expressing their opinions!

Media – social and traditional – continue to present women and girls with the same standard template of what's beautiful – and we continue to be influenced by it.
Dove has the right idea. They are focused on helping women – especially girls – learn to love and accept themselves as they are. I'm on board with this. I want my daughter to appreciate what makes her special and beautiful to all of us who know her. I put together a little party following the guidelines on the Dove site for me, my daughter and several of her friends and their moms to talk about changes, worries and coping strategies for the years ahead.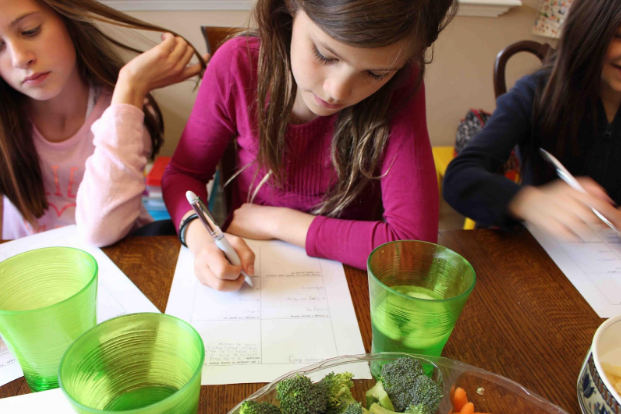 To plan for the party, I went to Loblaws. I talked to one of their staff about getting help with planning goodies for the party. They set me up with a gorgeous fruit tray, a veggie tray, and cheeses and crackers. They also gave me a variety of freshly made pizzas and a tray of mini dessert items. Because one of my favourite party foods of all times is a spinach dip I went on the Knorr.ca website and found a very easy recipe, so I grabbed all the ingredients for that dish while I was there. I made an executive decision and picked up mini cans/bottles of sparkling water, lemonade and tea. I grabbed festive paper goods and placed an order for a bunch of cheerful, happy flowers. And, I was done!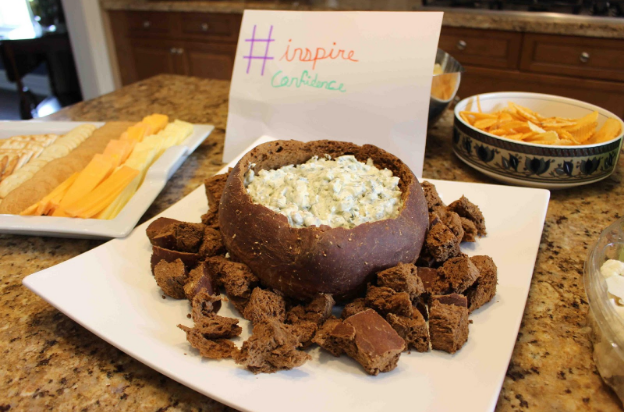 The day of the party I printed out a quick "agenda" to keep us on track.  I kept it simple and to the point. I figured it would be better to get hung up on one topic, if that seemed important, rather than make everyone feel as though we had to rush through a million topics.  I used the Mindful Me Activity Guide for Girls as a template for the party. You can find many workshop tool materials at doveselfesteem.ca:
Mindful Me

–

let's face it "fat" and "ugly" are NOT actual feelings. Yet, even by age 10, many girls who are discouraged, frustrated or sad will describe themselves as fat or ugly. Let's talk about identifying our feelings and using the right language to describe them. Let's focus on what there is about ourselves that makes us feel good!

Why I'm Fabulous

–

the world would be a pretty boring place if we all looked, thought and reacted alike. What is it about you that makes people smile? What is it about you that makes you a great person, friend, and daughter?

My Brilliant Body

– i

t's human nature to take things for granted. Most people do not wake up feeling grateful for not having to think about making their heart beat or having to remind themselves to breathe. It's time to focus on what your body CAN do. What can YOU do well that other people can't do? Give your body credit for what it does and give yourself credit for recognizing it.

Mindful Eating

–

this can be a tricky subject. Many of us eat when we're anxious, bored or sad – moms and daughters alike. At the other end of the spectrum are those who stop or forget to eat when they are experiencing the same feelings. Talking about taking time to think and enjoy what we're eating is important. Why is it important to you?

Mini Meditation

– recognizing when you are beating yourself up with negative thoughts can be a huge breakthrough. Helping girls recognize this pattern and understanding that it is normal is vitally important. Using deep breathing and visualization can help break the cycle of "I can't," "It's not even worth trying," etc. and the earlier we can help ourselves and our girls conquer these feelings, the better.

Power Poses

– how a person sits, stands or presents herself conveys much about how they feel about themselves. Encourage the girls to pose in confident, happy ways and sad, anxious ways. Take pictures and compare them. Talk about what the girls might change and what they might want to try to emulate.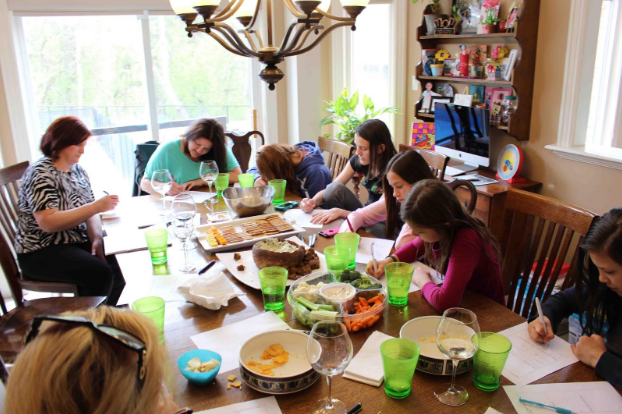 Another thing I tried to get our group to focus on and talk about, was how girls and women are portrayed in the media. We all know that girls and women come in all different shapes and sizes. There is not one right size/shape/color/type of hair/etc.  We all know this in our heads. Yet, it's hard to really believe as you go through the checkout line at the grocery store or as girls scroll through pictures on social media.  Talking about this kind of stuff makes it real. It makes it stick. All of us with daughters should be talking about it all the time!  
I have to say that we had a great time. There was a lot of back and forth between the moms and the girls. We talked a great deal about what it is to be beautiful at different ages. I think the girls really appreciated hearing from a wide variety of moms how being a tween/teenager can vary so widely. It was especially important for the girls to hear that the moms all wished they had been kinder to themselves when they were young and that they wished they had tried different things.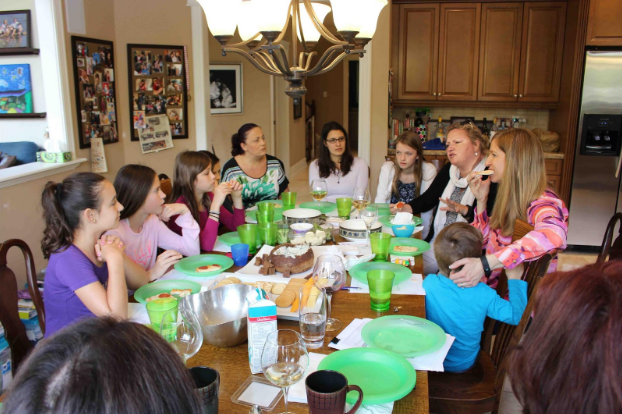 It's a start. I'm thrilled with this beginning. I am already planning for next year's mom/daughter party on What IS Real Beauty? We all want our daughters to know they are beautiful and to live their lives this way from the earliest age possible. And, as we help our daughters, we get to discover things about ourselves. That make us moms beautiful, too.  
Why not plan your own party? You won't regret it. I kept things super-simple. I made sure we all had comfy places to sit. I planned for a discussion-based party. If you want to try some of the activities suggested above, clear a table and have some paper and basic drawing/writing supplies available. You will not regret investing 30 minutes preparation for the conversations you will open up with your daughter.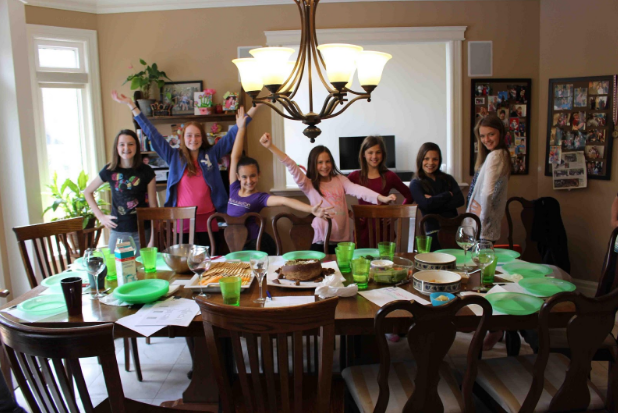 Six out of ten girls are so concerned with the way they look, they avoid participating in a range of activities. 
To help combat these shocking stats, Dove has started a fun new initiative to encourage moms to host an #InspireConfidence party for the girls in their lives. These parties are a fun way to open up the conversation on important issues like body image.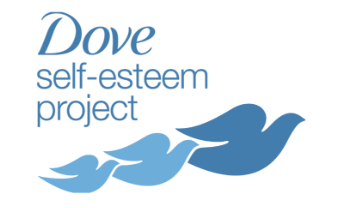 Looking for inspiration for your own party? 
Then learn how you can use your party to combat anxiety in girls.