Swimming Fun with Trunki PaddlePaks – Review
Summer is my favorite season. Swimming, camping, sending the kids to camp and enjoying a more relaxed pace all contribute to summer's awesomeness.  Our family spends a lot of time outdoors in or near water.  While I love water activities, since having kids, I have come to hate carrying everything for everyone.  You've seen "me" or been me if you're a mom. You start the day organized and everyone has a way to carry their own stuff. Within thirty minutes, there you are loaded down with everyone's bags and extra junk struggling to keep up.
For a few weeks each summer my kids go to summer day camps. I have often wanted to pull my hair out when they come walking out to the car dragging a towel and their lunch container because they have lost yet another bag.  I've discovered the losses of these bags are sometimes accidental and sometimes "accidental-on-purpose" usually because the bag I bought specifically for camp was too big or got too wet and heavy for the kids to bother with it.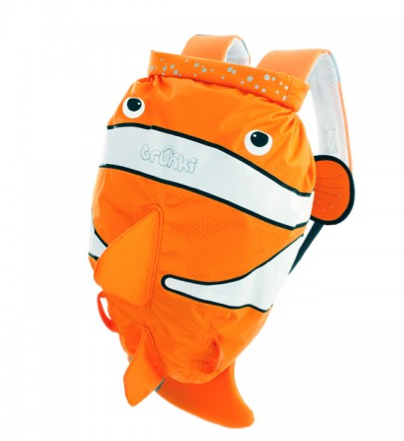 This summer, things are going to be different.  Meet the Trunki PaddlePak.  The picture here is of the Chuckles the Clown Fish PaddlePak. This is not just a cute little back pack. This is clearly a mom-designed item that repels water, keeps wet things away from dry things, fits your child's body and offers your child friendly openings and closures.  The woman who designed this bag has clearly served as the family "pack-mule."  The PaddlePak's function is ingenious and kids want to carry the bag because they are fun and sized exactly right.
So far, we've been using the packs for swimming lessons.  We have Chuckles the Clown Fish and Spike the Blow Fish.  The kids' wet stuff does not leak through the bag on the drive home! The water-resistant thing works both ways.  My son set his pack down directly on top of a running sprinkler while he waited for me after lessons.  The bag itself was not soaked – a quick wipe with a paper towel dried it – and nothing inside that wasn't wet when it was put into the bag was wet either.
The bags hold a surprising amount of stuff.  The Chuckles PaddlePak is perfect for kids 2+. Not only will the bag hold all of their stuff for swimming lessons, a day at the beach or an overnight trip, your child can easily carry it himself! For older kids, there is a slightly bigger version of the pack in nameless shark or killer whale designs.  This summer, I will be retiring my old title of Mom-the-Pack-Mule.
(I wonder if my husband would consider wearing the shark PaddlePak?)
This post content is sponsored by Trunki, however the views and opinions expressed herein represent my own.